---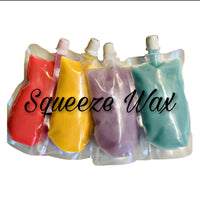 Squeeze wax! Yes a squeezable wax! 
 Ingredients: 100% soy wax with a little bit of soy oil, fragrance oil and candle dye 
Squeeze wax in a 3oz squeeze pouch. Use a little or a lot. Perfect for mixing scents. Squeeze desired amount into your warmer. Color and consistency may very.
Winter Mittens Fragrance begins with notes of fresh air and spearmint tickling your nose. At the heart of this winter aroma, snow-covered berries and pine needles intermingle with base notes of warm woods, moss, and musk
Falling For Fall is a combination of fall fruits, warm spices, and of course, the aroma of autumn leaves all in one!
Caribbean tropical paradise blend of coconut, fresh sliced pineapple, with a scoop of vanilla ice
Fresh Linen is a clean accord with soft subtle back notes of powder and musk. Very similar to downy fabric softener. Notes include: jasmine, lilac, peony, Egyptian musk and French vanilla
 Hot Cocoa:the aroma of warm hot chocolate with melted marshmallow topping
 Mrs Claus Cookie aroma of freshly baked sugar cookies with buttercreamfrosting, with fresh notes of vanilla extract.
 Balsam and Cedar A camphoraceous woody blend of pine, eucalyptus, cedarwood; finished with sweet balsam
 Oceans:A complex bouquet of carnations, lily of the valley, andhyacinth; underlined by oakmoss and white musk.
 Fruity Rings: top notes of lemon rinds, lime, and grapefruit; middle notes of lemongrass, lily, and verbena; and base notes of vanilla sugar.
 Eucalyptus and Spearmint the invigorating herbal blend of eucalyptus and spearmint with fresh citrus lemon, lavender flowers
Pink Sugar is a fruity blend of cotton candy, lemon drops, caramel and raspberry jam on a dry down of musks.
Cracklin Birch: is outdoors on a winter day. Cracklin Birch fragrance begins with top notes of bergamot, orange, and lemon; with middle notes of geranium, lily, and rose; and base notes of patchouli, vetiver, and tonka beans.  
Straight Up Savage fragrance oil is our rendition of Dior Sauvage.  We not affiliated or associated with Dior. Our scent begins with top notes of Reggio bergamot and rose absolute, followed with middle notes of blue sky accord, Sichuan pepper, and magnolia, all sitting on base notes of ambergris and sensual musk. 
Country Bumpkin is a wonderful complex blend of apples, candied yams, marshmallows, sweet cream butter, brown sugar, nutmeg, crushed cinnamon bark and fresh cloves.  Bring the country home to you
Deadly Weapon: A rugged and masculine scent with the perfect balance of intense spices including black pepper, cardamom and clove with a touch of sweet mandarin set the scene for the introduction of rich leather, smooth frankincense 
Clean Breeze A fruity floral blend of peach, watermelon, neroli and jasmine on a dry down of aquatic notes and musk
Monkey Farts smells like a mix of bubblegum, pineapple, bananas and grapefruit.
Dragons blood smells just like the essential oil. Dragon's blood truly has a smell all its own.
Lavender a wonderful aroma of true lavender flowers.
Vanilla lavender is a relaxing and tranquil scent that is also unique and memorable. A well-rounded combination of fresh lavender, fresh vanilla beans, with orange zests and patchouli.
Grape Soda Indulge yourself with this effervescent aroma of Kyoho grapes intermingled with fresh peaches, pineapple, raspberries, and strawberries on a dry down of vanilla.

Bite Me Fresh citrus notes of lime and orange sparkle with effervescent highlights as they lead to a luscious blend of berry and cherry in this playful scent. Smells a lot like cherry sprite
Perfect man is the best man smell we could find.
Butt Naked is a fruity scent
Hot apple pie is the aroma of fresh cut granny smith apples, smothered in butter, cream, and cinnamon, with a background of fresh baked crust.
Hot butter rum begins with top notes of rum and is complimented with base notes of creamy buttery toffee.
Cinnamon roll is the wonderful aroma of fresh baked cinnamon rolls with buttery icing.
Pumpkin apple butter will put you in the mood for the holidays with top notes of orange, apple, pear, pineapple, and cherries; middle notes of pumpkin, cinnamon, nutmeg, and clove; with base notes of warm vanilla. Unique, and simply amazing!
Gingerbread cookies is a spiced cookie, with a freshly baked character with hints of vanilla, nutmeg, cinnamon and ginger.
Balsam and cedar is A camphoraceous woody blend of pine, eucalyptus, cedarwood; finished with sweet balsam