---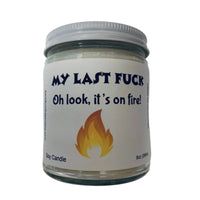 Pick your scent soy candle.
9oz. Glass jar with metal lid. H:3.5"xD:2.8" (About 70 hour burn time)
Trip wick to 1/4 inch before each burn. Please see warning label on bottom of candle for burning instructions and safety. To get the most out of your candle always burn until the top layer is completely melted or your burn time will be reduced dramatically.
Soy wax is a natural renewable resource. Soy wax is biodegradable. Soy wax has a lower melting point than paraffin wax and because of this soy candles will burn slower and longer. 
Scent descriptions:
Blueberry muffin is the aroma of a freshly baked blueberry muffin. Top notes of juicy tart blueberries with orange zests, middle notes of butter cake, and base notes of vanilla and almond.
Dragons blood smells just like the essential oil. Dragon's blood truly has a smell all its own. 
Lavender a wonderful aroma of true lavender flowers.
Vanilla lavender is a relaxing and tranquil scent that is also unique and memorable.  A well-rounded combination of fresh lavender, fresh vanilla beans, with orange zests and patchouli.
Cracklin birch is out sorts on a winters day! Cracklin Birch fragrance begins with top notes of bergamot, orange, and lemon; with middle notes of geranium, lily, and rose; and base notes of patchouli, vetiver, and tonka beans. 
Loving Spell is an absolutely tantalizing fragrance composed of sweet bouquet of mandarin orange, bergamot, and tangerine enhanced by hints of fresh peaches, strawberries, and raspberries on an undertone of white musk. Imaginative and very complex!
Perfect Man fragrance begins with fresh, daring notes of Japanese grapefruit, bergamot, and lemon; followed by middle notes of peppercorn, ginger, jasmine, aquatic marine notes, and a hint of peppermint; sitting on expensive base notes of natural patchouli, cedar, vetiver, labdanum, and frankincense.  Now this is The Perfect Man! 
 Ocean is a complex bouquet of carnations, lily of the valley, and hyacinth; underlined by oakmoss and white musk.
Grape Soda Indulge yourself with this effervescent aroma of Kyoho grapes intermingled with fresh peaches, pineapple, raspberries, and strawberries on a dry down of vanilla. 
Mocha Cappuccino is the aroma of strong black fresh brewed Arabica coffee. Coffee fragrances do have base notes of vanilla in them, which may smell somewhat chocolatey.
Bite Me Fresh citrus notes of lime and orange sparkle with effervescent highlights as they lead to a luscious blend of berry and cherry in this playful scent. Smells a lot like cherry sprite
Cinnamon sticks is the aroma of freshly ground cinnamon bark
Country apple Is a very nice complex scent which begins with top notes of pineapple, jasmine, and tiger lily; strong middle notes of juicy McIntosh apples and tart granny smith apples; with a dry down of vanilla beans.
Vanilla Sandalwood is beautiful combination of luscious, rich vanilla, and earthy Indian sandalwood.
Indian Sandalwood is described as a warm, sweet, rich, woodsy fragrance.
Hot apple pie is the aroma of fresh cut granny smith apples, smothered in butter, cream, and cinnamon, with a background of fresh baked crust.
Cinnamon roll is the wonderful aroma of fresh baked cinnamon rolls with buttery icing.
Pumpkin apple butter will put you in the mood for the holidays with top notes of orange, apple, pear, pineapple, and cherries; middle notes of pumpkin, cinnamon, nutmeg, and clove; with base notes of warm vanilla.  Unique, and simply amazing!