---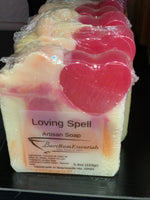 One bar of soap in Loving spell scent
An absolutely tantalizing fragrance oil composed of sweet bouquet of mandarin orange, bergamot, and tangerine enhanced by hints of fresh peaches, strawberries, and raspberries on an undertone of white musk. Imaginative and very complex!
 one bar of handmade soap 5.4oz
soap ingredients include: water, coconut oil, palm oil, olive oil, castor oil, lye, fragrance oil, skin safe colorant and glitter.