---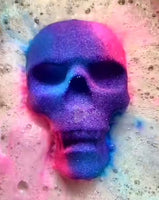 1 bath bomb in Butt Naked scent which is a fruity scent. Full of beautiful embeds and colors
7oz bath bomb
Since they are all all hand painted they may not be exactly the same as pictured.
Most all our bath bombs are either colored to color the water or have colors inside that will color the water anything from rainbow colors to blood red or black.
We ship all our bath bombs out with a paper label (ingredients and instructions) in box. If you need each bomb labeled individually please let us know in the notes when you order.
To use: Fill your bathtub with warm
water,drop in the bath bomb then lie
back and enjoy its lovely color and
fragrance.
 Bath bombs do not stain tub however
if tub has any soap build up it may
Stick to that and need wiped down
with soap and water after
Ingredients: sodium bicarbonate, citric acid, SLSA, Shea butter, polysorbate 80, fragrance oil, witch hazel, red  28, red 40, yellow 6, yellow 5, blue 1, mica